You've got the big screen, the soundproofing and the high-tech sound system. But a truly immersive home theatre setup goes beyond the gadgets and tech.
Designing a home theatre room that's cosy, comfortable and brings the magic of the movies into your home relies on thoughtful interior design. The right layout, furniture and accessories will revolutionise your movie-watching experience.
We explore the key home theatre design ideas and concepts along with theatre recliners and other pieces from the KING collection for designing a luxuriously cosy home theatre room.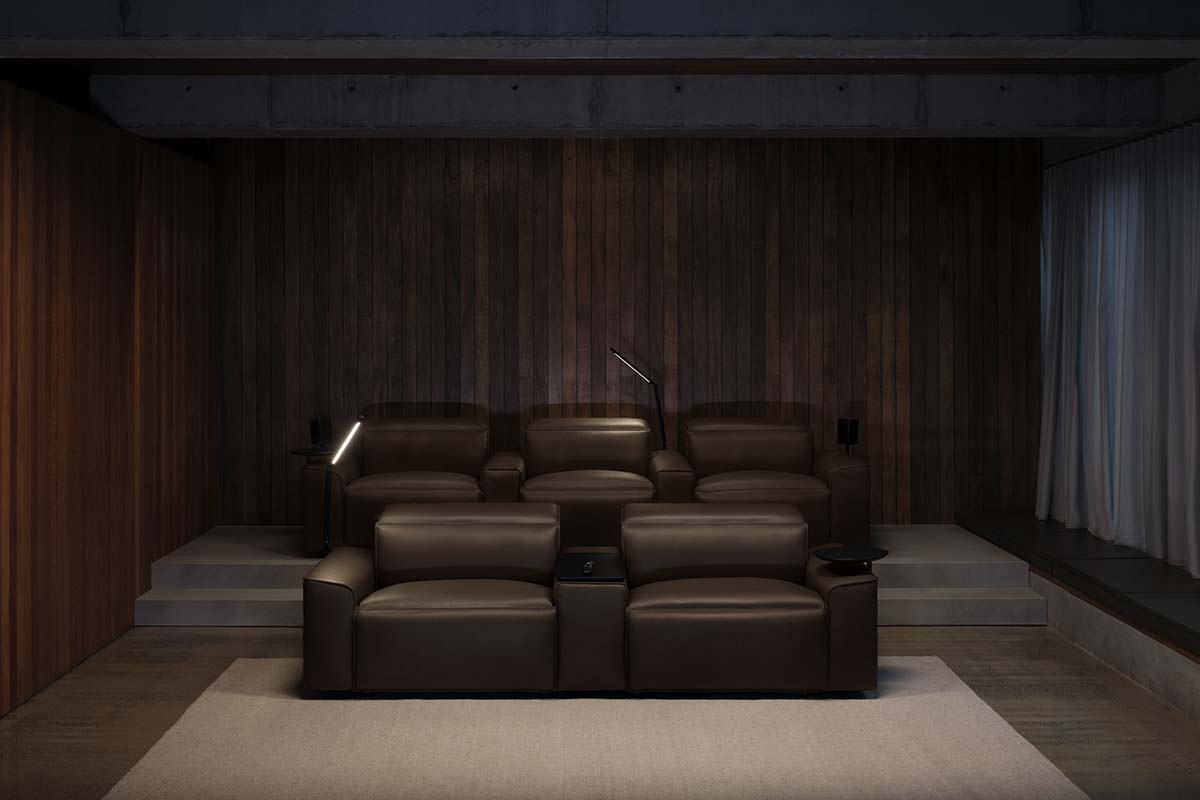 Surround yourself in next-generation luxury with King Cloud V.
Home theatre setup and layout
Opulence. Warmth. Comfort. Whatever ambience you want to create in your home theatre setup is achieved through playing with texture, colour, lighting and layout.
Layout
If you have the space in the home theatre room, staggered seating on a platform will replicate the cinema experience. You can achieve a similar vibe without a platform, simply by staggering the placement of your theatre lounges. Or, alternatively, use a combination of armchair and 2, 2.5 or 3 seater recliner sofas.
Texture
Opting for rich, textural fabric, such as velvet or leather, for your theatre lounges provides the perfect balance of luxury and comfort. Imagine sinking into a sumptuous leather home theatre recliner or resting against a soft velvet cushion. Texture adds depth, which helps to elevate the simplicity of a home theatre setup.
Colour
A home theatre calls for warm colours, such as deep browns, dark greys or warm neutrals. These earthy tones add to the intimacy of the room, making it feel cosy and inviting. You can also introduce accent colours to add pops of vibrancy to the room. Consider how the colour palette works across the walls, curtains, flooring and furniture.
Lighting
Blackout curtains or blinds help to keep natural light out of the room while ambient lighting helps to enhance the theatre aesthetic. Dimmable or wall sconces or LED strip lights around the room create a soft and subtle glow. LED floor lighting under the seating platforms or along the pathways can also add to the sophistication of the setup.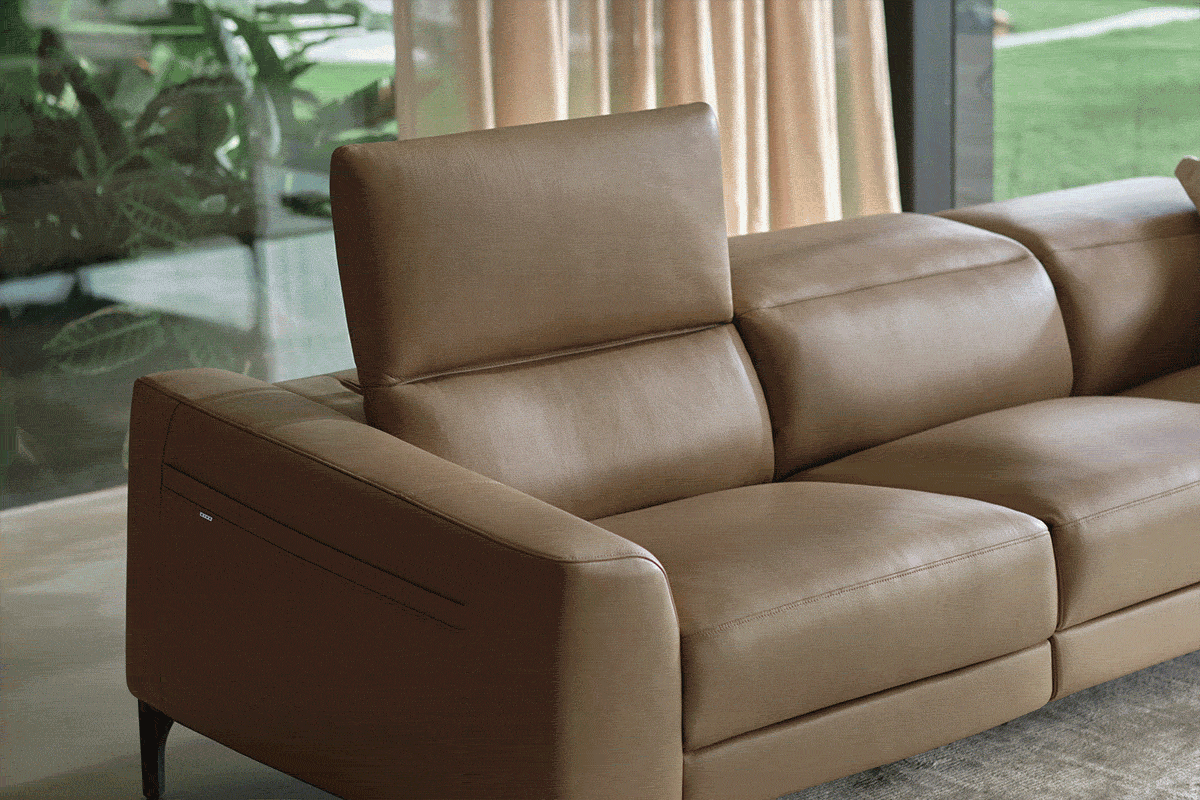 Reo II offers classic luxury.
Choosing the right theatre lounges
The centrepiece of your home theatre is your theatre lounges. You'll spend hours reclining but need to balance comfort with aesthetics. There are two recliners in the KING collection, both combining form and function, ideally suited for use as home cinema recliners.
King Cloud V is the epitome of KING innovation and design. With integrated controls, you can easily recline the seat, head and footrests at the touch of a button. The memory function can store your preferred settings so you don't need to give the perfect recline a second thought. Powered by TouchGlide® Technology with dual motors, the same technology used in the Reo II Recliner, King Cloud V offers precise movement control.
The Reo II Recliner features a classic, streamlined silhouette and a sleek and modern exterior. With reclining footrests and headrests controlled by discreetly placed buttons, finding the perfect position is effortless. Ample seating space and wrapped angles at the arms ensure a superior home theatre lounging experience.
As with any sofa in the KING collection, both Reo II and King Cloud V can be customised in a wide range of fabrics and leathers. The addition of Smart Accessories, such as LED reading lights, wireless charging tables and speaker brackets, provides even greater levels of customisation and functionality.
Featuring King Cloud V with smart accessories.
Other home theatre essentials
In designing a home theatre room, it's the finishing touches that can make all the difference. Invite warmth into the room or add personality with colours to suit your style.
Rugs are an often overlooked accessory in a room. When setting up a home theatre, choose a rug in a colour or pattern that ties the room together to create a cosy atmosphere. Even in a carpeted room, a rug adds depth and warmth.
A sideboard can help to contain the gadgets in your home theatre setup to maintain a tidy look and provide additional storage space. Match the timber finish of your sideboard to the legs of your recliner to ensure consistency across the room.
Additional side tables can also help to keep items in reach, ensuring you can remain in the comfort of your reclining sofa.
With the right furniture, accessories and interior design elements, your home theatre setup will do exactly what you need it to do. That is to serve as a sanctuary where you can put your feet up and recline in absolute comfort.
For more information, you can read our King Cloud V and Reo II articles to find out which recliner is right for you.