You found the perfect fabric for your furniture design. Now, how do you look after it?
Caring for fabric furniture may seem challenging at first, but there are simple and effective ways to keep your fabric looking beautiful.
KING only uses the highest grade, premium fabrics and every fabric in our collection has been vigorously tested. And the best part – all our furniture can be recovered if an accident does happen that you can't fix.
We understand your furniture is an investment and we want to ensure you have the right advice. This fabric care guide will cover:
How to protect fabric furniture from stains, spills, and marks.

Which fabric care products are best and what to avoid.

How to remove stains from fabric furniture

General maintenance and protection tips

How to use the KING Fabric Care Kit

How to remove fabric pilling from your sofa
With this information you will be armed with the knowledge to take care of your investment pieces and ensure they remain looking great for years to come.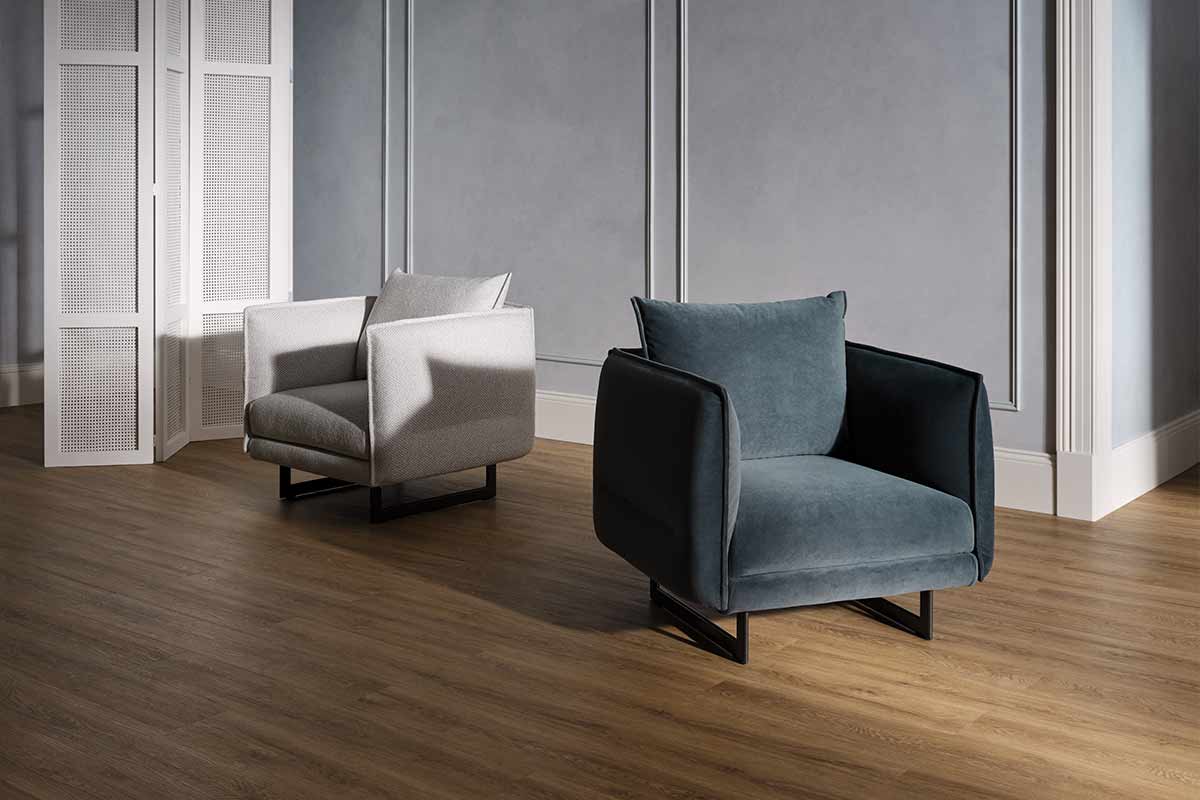 The Zaza Armchair in Boyd fabric in Autumn Mist (left) and Aegean Teal (right).
How to protect fabric furniture from stains, spills, and marks
In addition to following general cleaning and maintenance advice, we highly recommend protecting your KING furniture with KingGuard+, our non-toxic, water-based fabric protection treatment.
KingGuard+ is designed to repel liquids and stains, making it easy for you to clean and keep your sofa fresher for longer. Many customers choose KingGuard+ at the time of purchase as a safety net to help shield and protect their investment. Keep in mind that while KingGuard+ does repel liquids, it won't make your furniture waterproof.
Fabric protection is highly recommended for sofas and will extend the life of your furniture. You can learn more in our KingGuard+ guide.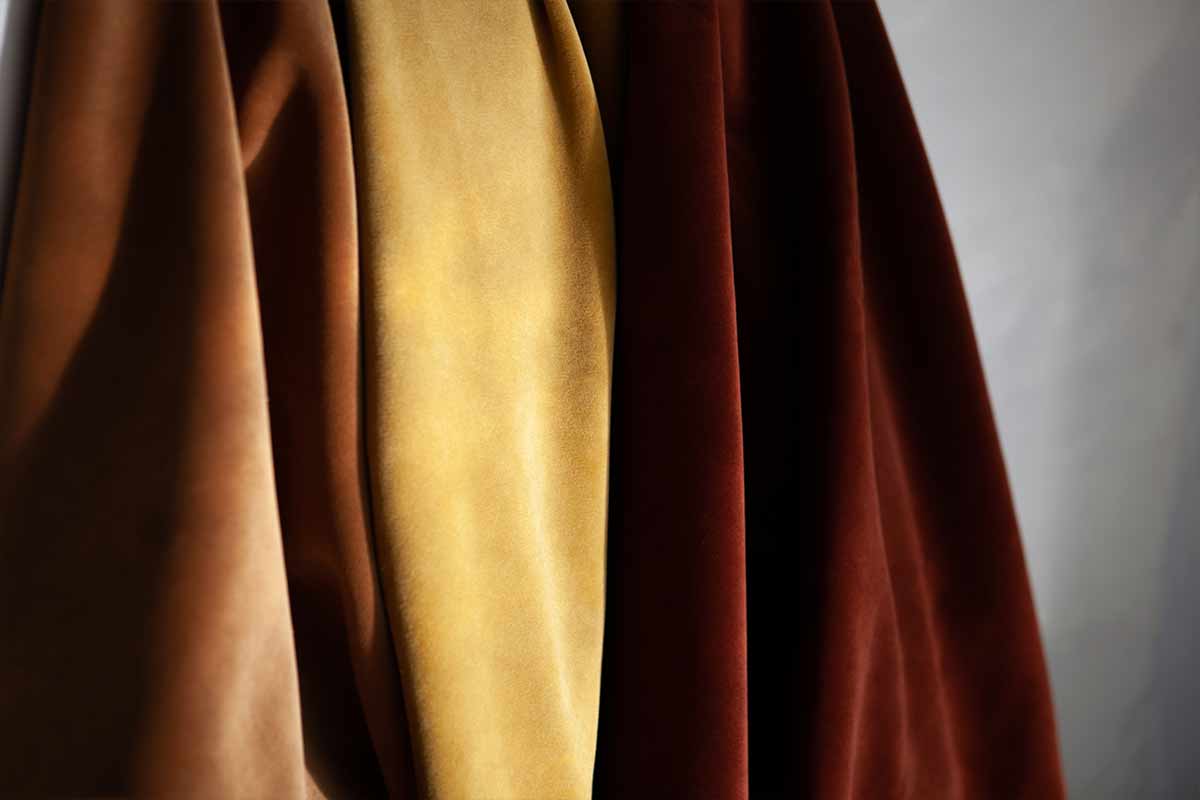 Preston Velvet is a luxurious fabric ideal for making a statement.
Which fabric care products are best and what to avoid
The best advice we have is to only use fabric cleaners designed for your fabric. It may sound simple, but this can mean the difference between keeping your fabric looking great or potentially ruining it.
If you have purchased KING designs, King-Care® cleaning products will clean, protect and maximise the life of your fabric. Be sure to follow the instructions and be careful not to clean more often than recommended, avoid vigorous rubbing and never soak the fabric.
Fabric products to avoid
When a spill happens many rush to use the first cleaning item they can get their hands on. This is why it's important to always have the right fabric care products at home.
Never use detergents, alcohol, chemicals, soaps, shoe polish, wax, window cleaner, silicone, saddle soap or any cleaning product not designed specifically for your type of fabric.

It's also worth noting that if steam cleaning or spot cleaning services are not performed correctly, they can leave watermarks and cause cellulosic browning. It pays to do your research before choosing these services.
The Fleur Sofa in Amalfi Blush fabric is effortlessly beautiful.
How to use the KING Fabric Care Kit
Whether you spill a coffee, or your little ones use your sofa as a colouring book, we understand accidents happen. The KING Fabric Care Kit is your greatest tool for protecting and cleaning your KING fabric furniture.
What is included in the Fabric Care Kit
Your Fabric Care Kit comes with:
Detailed instructions

Fabric Spot Cleaner

Fabric Protector

Cleaning sponge

Dye-free microfibre cloth.
How to remove stains and protect your fabric
We recommend you first read the instructions to get a good understanding of how the products work and then follow these steps.
STEP 1: Remove any excess solids with a spoon and excess liquid with a paper towel.
STEP 2: Spray the fabric spot cleaner onto the stain from a distance of 10cm.
STEP 3: Use the cleaning sponge or dye-free microfibre cloth to blot the treated area. For stubborn stains you may need to reapply.
STEP 4: Wipe off any excess cleaning liquid with the soft, dye-free microfibre cloth.
STEP 5: Now it's time to apply the King-Guard Fabric Protector sparingly on the cleaner area and allow it to dry naturally.
STEP 6: Wait for a few minutes to allow to the conditioner to partially dry then polish with a soft, clean cloth.
The Oliver Tub Chair rests elegantly in Preston Velvet fabric in Mustard.
How to remove stains from fabric furniture
Accidents happen – and when they do – it is important to clean up any mess as soon as possible. Speed is your friend when it comes to stains. A fresh stain is always easier to clean than an old one!
If you do not absorb the liquid and clean-up any spills or stains immediately, they can absorb into the fibres and become permanent.
The best approach to these types of accidents is to leave a super-absorbent cloth in place until most or all of the liquid has been absorbed. Then allow the fabric to air-dry. Dabbing or rubbing will make the liquid penetrate further into the fibres.
General fabric maintenance and protection tips
Following this simple maintenance and protection advice can have a significant impact on your fabric care.
Regular cleaning

– pay special attention to areas that come in direct contact with skin or hair, including seats, armrests and headrests.

Weekly vacuuming

– a weekly vacuum with low suction and a soft brush accessory will remove dust and damaging dirt particles, to help extend the life of your fabric and furniture.

Avoid placing furniture near heaters

– the quality of any fabric can be significantly impacted by a heater and contribute to odour, discolouration, and deterioration of the fibres.

Avoid direct exposure to sunlight

– this can cause fabrics to fade and may also cause excessive drying.

Keep pets off your furniture

– minimise your pet's contact with your furniture as the natural oils and dirt from fur can cause discolouration, unnecessary wear and tear and pilling.

Don't pull loose threads

- if a thread becomes loose on the fabric, simply cut it off instead to avoid creating extra damage.

Be mindful of sharp or abrasive objects

– shoes, belt buckles, rings and zippers can pull fibres, which may develop into holes.

Avoid wet swimming costumes and towels

– these can leave a watermark on the fabric, and can contribute to bleaching, mould growth and dye transfer.

Be aware of dye transfer

– dye transfer from clothes, such as denim, is possible and ink stains from pens must be attended to quickly to avoid becoming permanent
The Quay Barstool makes for a comfortable resting place, pictured in Boyd Linen.
How to remove fabric pilling from your sofa
If you notice pilling on your sofa do not panic.
While pilling can be bothersome it is important to know fabric pilling is completely normal and not considered a fault. The yarns used in weaving KING fabrics contain millions of individual fibres and the loss of a few on the surface as the fabric settles is quite normal.
Pilling occurs when the fibres in the fabric rub together – this friction causes the fibres on the surface to become loose and ball up. This is why you see pilling on many material products, including clothes, sheets, rugs, and even mattresses.
You may even notice more pilling during colder months when you are using throws or wearing woollen jumpers that tend to transfer fibres.
Regular vacuuming will minimise pilling as it will clean away the loose fibres before they have a chance to ball up. However, the easiest way to remove pilling is to purchase a depiller. These appliances are usually inexpensive and although most are designed for clothing they work on soft furnishings as well.
You can purchase a depiller from King-Care® as well as department stores and haberdasheries.
If you have concerns about pilling or you're not sure if fabric is right for you, read our leather vs fabric article to make an informed decision
Sculptural and distinctive, Fleur is a design statement. Pictured in Amalfi Blush fabric.
Are you ready to care for your furniture fabrics?
Fabric covers can change the whole aesthetic of a furniture design. And it only takes a few stains and marks to make your sofa look less fresh.
With the right care, cleaning, and protection you can prolong the life and appearance of your fabrics.
Top six fabric cleaning takeaways:
Vaccuum weekly using low suction.

A fresh stain is always easier to clean than an old one.

Only use fabric cleaners designed for your fabric and always

refer to the Fabric Care Label.

General household cleaners can damage fibres and discolour the fabric.

Protect fabrics from direct sunlight and move away from heaters.

Fabric pilling is normal and can be removed with a fabric pill remover, available at most department stores.
If you need further information our King-Care® team is available to help. Most services can be performed in the comfort of your own home, including our recovering service.
Visit your nearest KING Showroom to see our fabric range in person or view the fabric collection online.