Are you planning to order fabric and leather samples?
You might have already spent time reading about the materials, thinking about colours you love, and wondering what your colour choices say about you.
But how do you decide on the right fabric samples and finishes for you?
At King Living, we offer an extensive range of premium fabrics and leather, and we understand it can be hard to decide which is best for your home.
This article will explore the top 5 considerations when choosing your perfect fabric.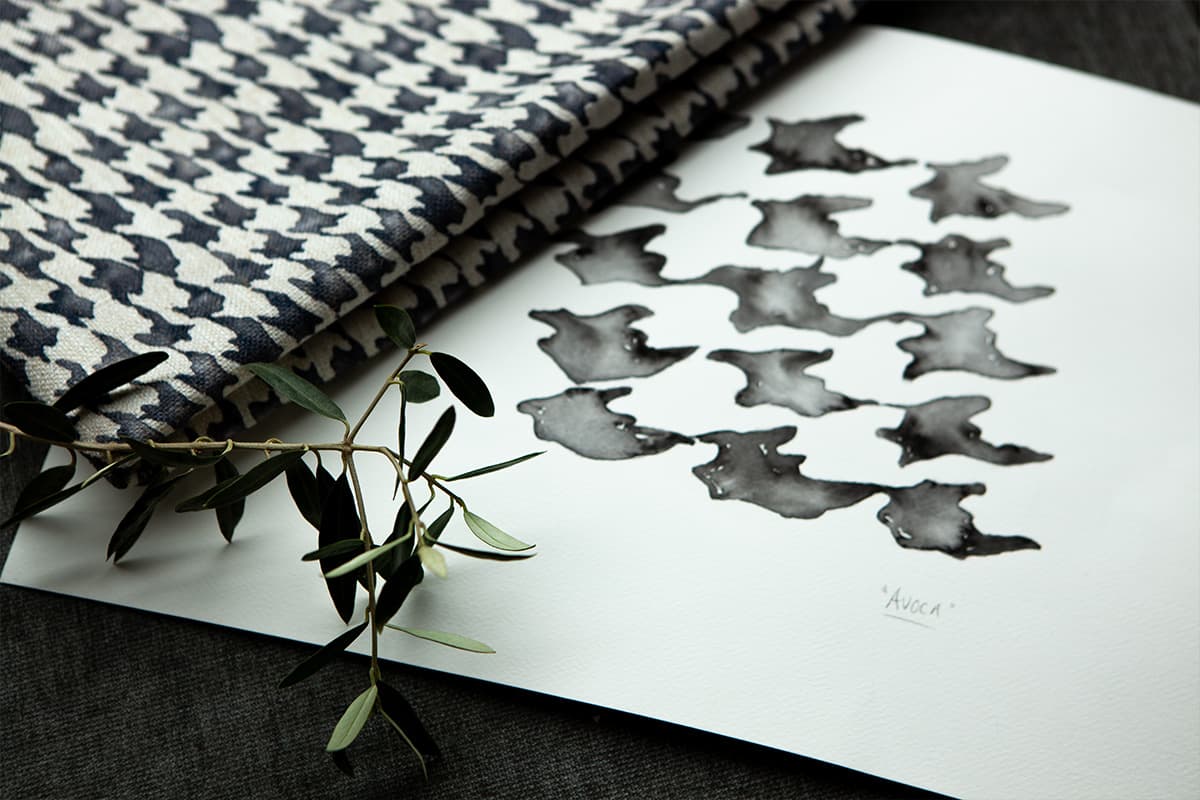 King Living fabrics are designed in-house. Pictured above is the Avoca fabric in Ink.
1. Which fabric suits your lifestyle
Do you have kids or pets? Do you like to eat dinner on the sofa or host parties often where some red wine might spill?
While this part is less exciting than choosing your favourite colours, you need to consider the practical side of how durable a fabric is.
At King Living, we have an extensive collection of furniture fabric and leather options, and it can be confusing to pick the right one that suits your needs.
Some of our fabrics are more performance-based, and others are artisan fabrics with stunning textures.
As you would have guessed, some fabrics will be simpler to clean and maintain, while others may be more likely to pill or stain easier.
All of our fabric product descriptions can help you learn more and will specify if a fabric is durable and suitable for high-traffic areas.
To help with this, it's best to refer to the fabric category. King Living furniture fabrics are categorised by strength to help you choose which is right for you and range from light domestic (for cushion use only) all the way to heavy-duty commercial.
Factoring in lifestyle and durability requirements will help narrow down the options and determine what will best suit you.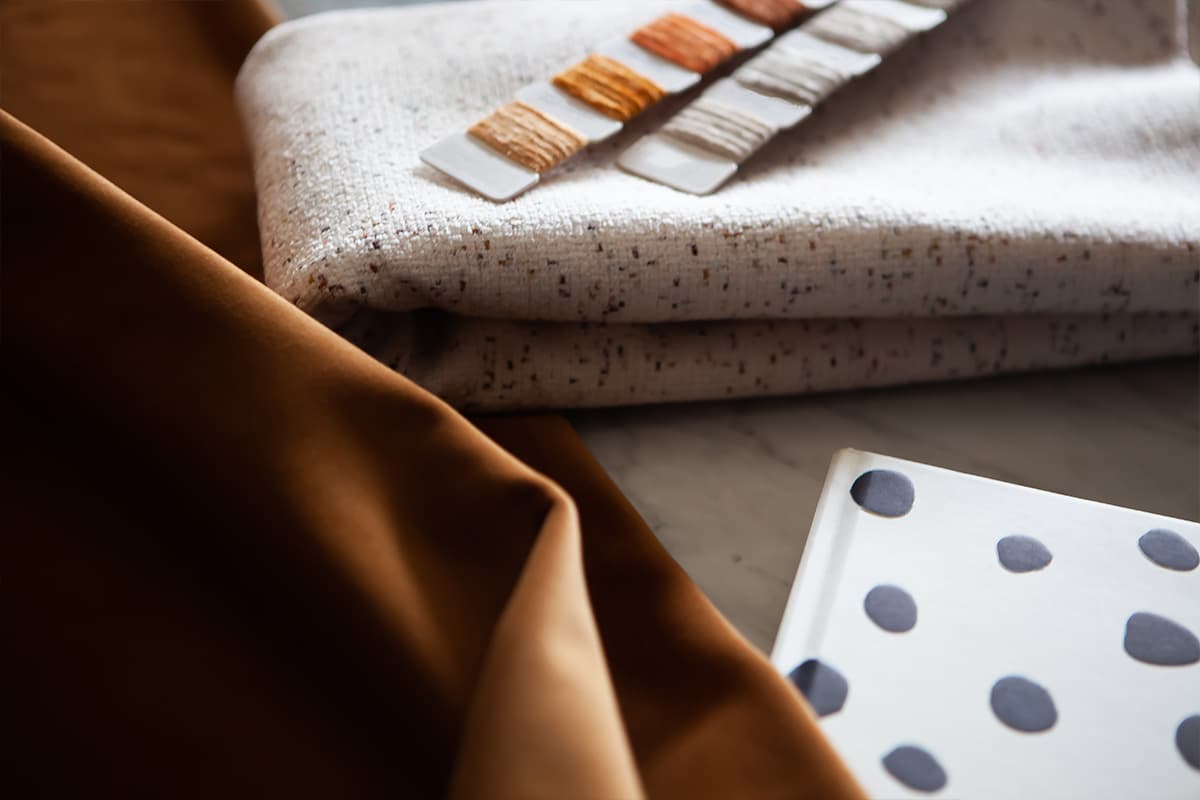 Luxurious Preston Velvet in Tan and Olley fabric in Confetti.
2. Which colour palette is best for you
Firstly, what style are you going for? The best place to start is by looking at the colours already in your room.
If you're in the process of remodelling or repainting, you will have to think about this first. The flooring and paints you choose will all influence your colour choices.
The most significant decision you'll need to make is if your furniture will be neutral or take on an accent role. Greys and neutrals will be easiest to mix and match with other furniture, whereas other colours will need more consideration to work with the overall look you're trying to achieve.
Next, you'll need to think about dark versus light colours. If you have dark flooring, it's generally better to go for light furniture and vice versa. A good middle ground is a grey or taupe colour.
If in doubt, always go with what you love, and think about colours you already like. Even the clothing colours you wear will give you a good idea about what colours are already part of your life.
KingSuede™ Futuro is a supremely soft vegan suede crafted from woven microfiber.
3. Which room will your furniture be located in
Some fabrics work best in certain rooms in your home. Some will read a little bit more formal, like textured wool, and some will be more casual, like a relaxed linen blend.
The room your furniture item is located and the type of feeling you want to create will make a big difference to your furniture fabric choice.
Durability is also important – are you choosing a fabric for an occasional chair in your bedroom or a sofa in the main family room?
Considering how much you will use a piece of furniture and where it will be located can help narrow down your options.
Fun and playful, Olley makes a splash in the way only space-dyed chenille can.
4. Does your room have natural light
Is your room well-lit with natural light? Will sunshine be coming in?
It's important to view your swatches at different times of the day to get a sense of how the colours respond.
All fabrics will undergo fading over time if exposed to the sun's ultraviolet rays. However, some fabrics will fade significantly faster.
If you know the sun will be on your furniture, you'll need to consider the fabric's colour fastness to UV light rating. If your furniture is left in sunlight and fades, it won't be able to be reversed.
King Living recommends protecting your fabrics from a direct light source to ensure they are not subject to fading. If this is unavoidable, rotating the position of your furniture and even reversing your cushions is advised.
Richmond is a durable chenille fused with world-leading performance fibres made from recycled materials. Pictured in Tobacco.
5. What type of texture do you like
Texture is very personal. You may love something really soft and velvety or prefer a smooth feel or a textured blend.
The preference for how a fabric feels is different for everyone, which is why it is important to get a feel for the fabric in a Showroom or by ordering fabric samples.
Durability aside, you are the one sitting on the sofa, relaxing in the chair or getting cosy while leaning on your bed head – be sure to choose what you truly love.
Experience fabrics and leathers in person at your nearest King Living Showroom.
Are you ready to order King Living furniture fabric samples?
Choosing your fabric is a big decision. And we don't make it easy for you with hundreds of fabrics to choose from.
If you need more help, we would love to hear from you. You can always contact our team or book a styling consultation to get one-on-one personalised help. If you're ready now, you can order fabric samples online.
If you're planning to visit a King Living Showroom, our Showroom Checklist will help you prepare. If you bring in samples, paint swatches, and photos of your space our team will help you make the right choices.
You may also be interested in reading our furniture fabrics testing guide to learn about how fabrics are tested before they are selected for use.