Marble is a beautiful natural stone that has been extensively used in furniture design for centuries.
The elegant veins and colour variation of the stone offer timeless appeal and make every piece of furniture unique.
While a natural stone and very versatile, marble is not indestructible, and a level of care and maintenance is needed to keep it looking its best.
In this article, we will highlight how to care for your marble furniture and share advice on how to protect it from stains and scratches.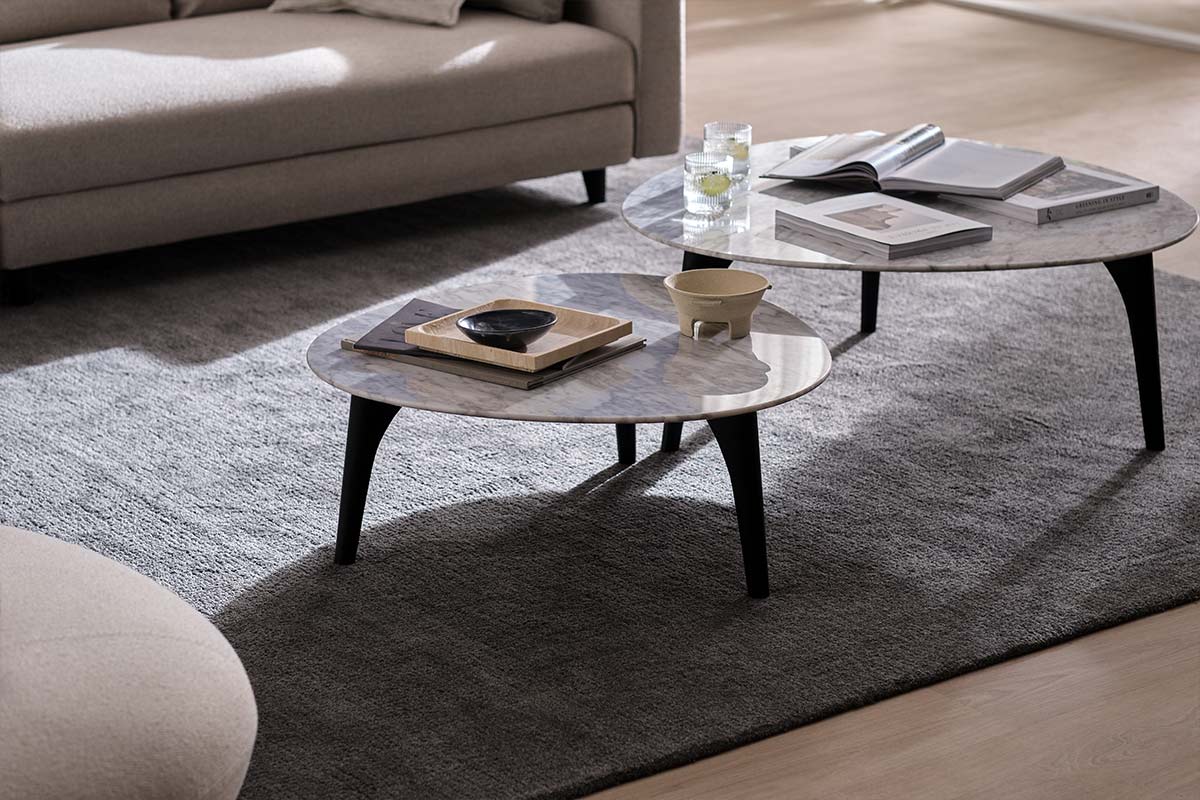 Crescent Coffee & Side Tables feature gentle curves and elegantly tapered timber veneer legs.
How to protect your marble from stains and scratches
While marble furniture can be durable, if the marble is not properly sealed or treated, it will absorb stains and scratch easily.
At KING, we seal and treat our marble using a top-quality concentrated wax that is dissolved in a non-inflammable solvent. The wax is buffed into the marble, which penetrates deep into the pores to achieve maximum protection and a long-lasting mirror finish.
While sealers are a great way to add a protective layer to marble furniture, it is also important to use coasters or boards to stop food and drinks from directly touching the marble surface.
Do not place any hot items directly on the marble and be sure to immediately wipe up any spills with a clean damp cloth.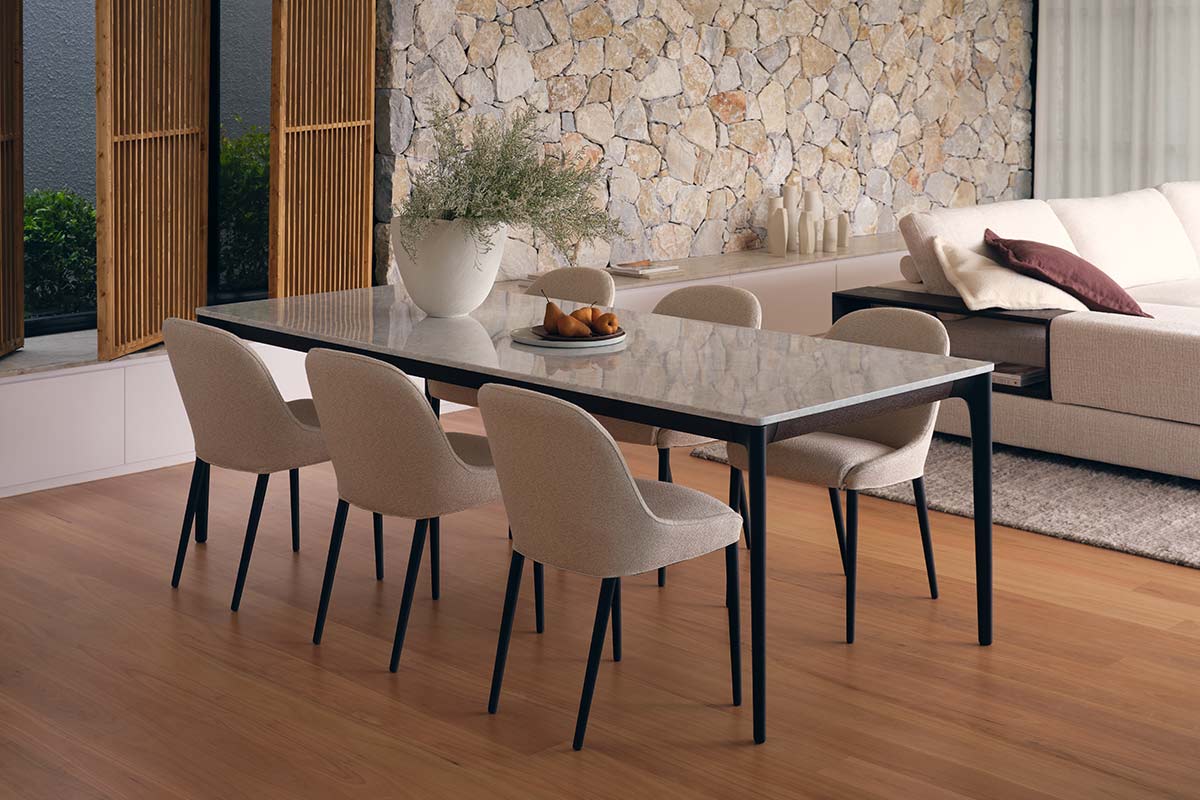 Quay Marble Dining Table paired with Quay Dining Chairs.
What causes marble stains and etching
It is important to know that even sealed marble has the potential to stain or etch. Knowing how this damage can occur may help you take the right measures to help protect the marble surface.
Etching can occur when marble comes in contact with acidic substances, including coffee, citrus, wine, tomatoes, alcohol and juice.
Unlike a stain, etching is a corrosive reaction to the acidic substances, which removes the surface layer to reveal the raw marble beneath. The exposed raw marble becomes lighter and duller than the unexposed marble.
A stain on the other hand, occurs when a liquid penetrates the marble and causes discolouration within the stone.
The Serenade Bedside Table features a luxurious marble top.
How to clean marble and address stains
There are a few general guidelines for cleaning marble and addressing stains.
Whether it's an accidental drink spill or some food falls off your plate, time will be of the essence.
And, while the first rule for any spill is to act immediately, the first step to cleaning your marble is knowing different stains and substances require unique cleaning methods and products.
The general steps to cleaning marble and addressing stains are:
Remove any loose debris.

Blot spills instead of wiping as wiping the area will spread only the spill.

Flush the area with water and mild soap and rinse several times.

Dry the area thoroughly with a soft cloth.

Repeat as necessary.
If you use a cleaning chemical, remember to always test on a small inconspicuous area first.
The Mars Coffee Table is available in an elegant marble or classic timber finish.
Can deep stains, scratches or etching be removed?
Unfortunately, etching is difficult to reverse as it is a chemical reaction that burns through the surface layer of the marble.
When the raw marble is exposed, there is a notable colour difference and cleaning will not reverse the damage.
For slight scratches or etching, you may be able to minimise the signs of damage by buffing and re-sealing your marble. The first step is to ensure any solid materials have been removed and the marble has been wiped clean, then:
Spritz the surface with fresh water and apply a reputable marble polishing powder (available at hardware stores).

Rub the powder onto the stone with a damp cloth or by using a buffing pad.

Continue buffing until the etch mark disappears and the marble surface shines.
For deep etching, contact your local stone restorer for refinishing or repolishing etched areas that you cannot reverse or improve.
The Eto Marble Coffee Table is designed in collaboration with award-winning designer Tom Fereday.
Are you ready to take care of your marble furniture?
Marble is a beautiful, natural stone widely used in furniture design.
From bedside tables or coffee tables to dining tables, marble is also a very versatile product and brings timeless elegance to any room in your home.
While KING uses a high-grade sealer to protect our marble furniture, regular care and maintenance is needed to keep it clean and looking its best for years to come.
For advice on cleaning and protecting your marble furniture, refer to our product care advice.
Shop online or visit your nearest KING Showroom to discover more marble furniture designs by KING.