Quality outdoor furniture allows you to create comfortable and practical outdoor living spaces—blurring the line between the indoors and the outdoors.
Whether you have a relaxing poolside retreat, outdoor dining space, or quaint patio, your outdoor space is an extension of your home.
As an extension of your home, the KING vision is to craft outdoor furniture with endless options for customisation and tailored comfort. A design principle that we have been applying to our indoor designs for five decades.
Well-designed and furnished outdoor spaces create your own personal retreat and spot for relaxing. KING Outdoor Accessories are designed to enhance this experience and provide practical and aesthetically beautiful solutions.
In this article, we will highlight our range of outdoor accessories and occasional pieces to help you decide if these designs are suitable for you and your outdoor space.
In this outdoor space, Jasper Outdoor is paired with Oasis Outdoor Pedestal Coffee Table, Lode Ottoman and Quay Outdoor Armchairs.
What outdoor accessories do KING offer?
With the right outdoor furniture and accessories, you can take your outdoor space from a blank canvas to a comfortable, functional, and beautiful outdoor living space.
The KING collection of outdoor accessories and occasional furniture includes rugs, ottomans, platform tables, cushions, hidden storage in sofa platforms and a WeatherGuard Cover.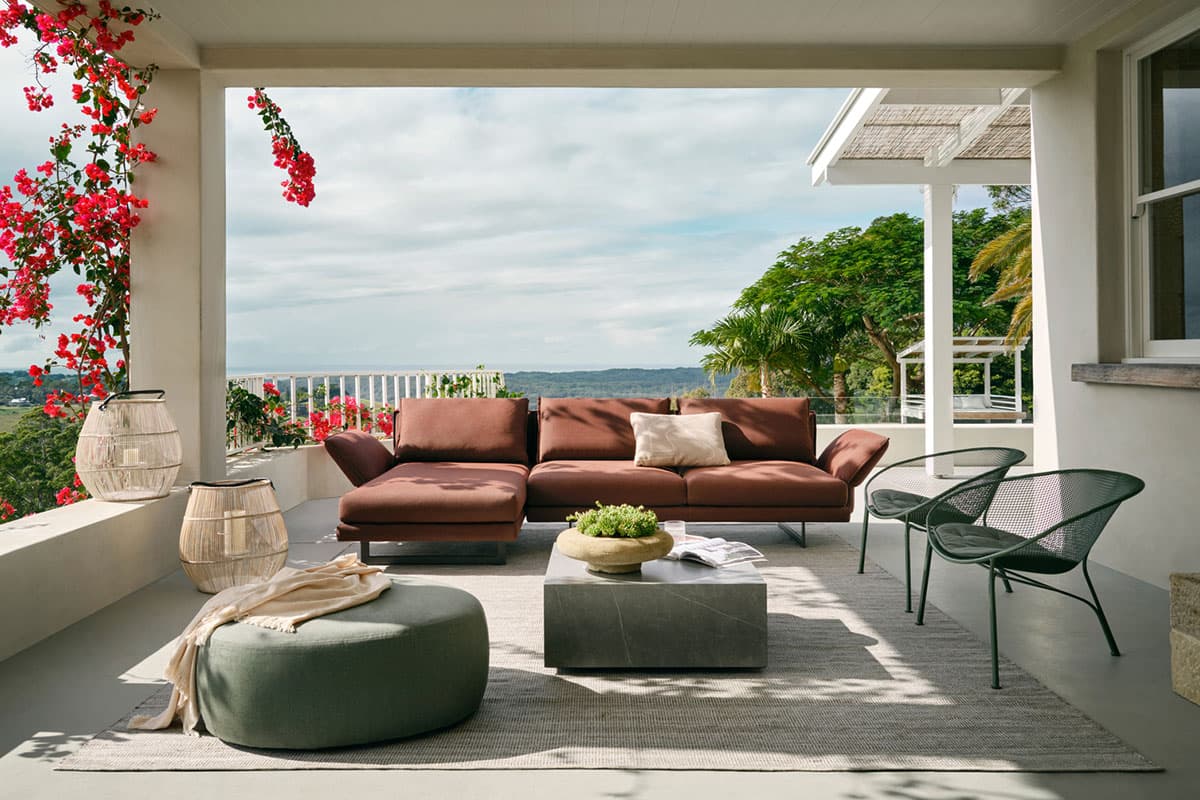 Featured above, Avalon Rug, Zaza Outdoor, Luna Outdoor Chair, Monument Coffee Table and Crescent Outdoor Ottoman.
Anchor your space with an Outdoor Rug
Whether indoors or outdoors, rugs have the unique ability to bring warmth, comfort, softness and personality to your space.
Being a union of style and functionality, the right rug also anchors your space while creating layers of interest, depth and intrigue.
The KING Outdoor Rugs are handwoven entirely from yarn derived from recycled plastic bottles. This design choice creates a rug that is soft underfoot yet incredibly durable and easy to maintain.
Enhance your lounging experience with a Delta Outdoor Round Swivel Table that effortlessly connects to your Delta Outdoor Sofa.
Customise your outdoor sofa with platform tables
Platform tables are a convenient outdoor accessory that provides the perfect resting place for your phone, a book, a drink, or other items you want within your arm's reach.
Compatible with various outdoor sofas and sun lounges, platform tables are crafted from durable UV-stable ceramic and are engineered to withstand exterior elements.
This flexible and convenient accessory effortlessly integrates via a bracket that inserts into the sofa or sun lounge platform.
The Lode Ottoman features organic curves to create unique and sculptural seating for your outdoor space.
Create additional seating with outdoor ottomans
Whether placed poolside for casual seating or placed in a secluded nook in your garden to create a cosy corner, Outdoor Ottomans are extremely versatile and effortlessly add additional seating to your outdoor space.
KING Ottomans are crafted using a high-performance weather-resistant fabric that is UV stable, fade and mildew resistant. The removable covers are tailored in your choice of outdoor fabric and can be easily removed for professional cleaning or replaced for a whole new look.
Use various-sized Cresent Ottomans to create relaxed conversation hubs or scatter them around for individual seating and comfort.
Bring extra colour and comfort to your outdoor spaces with outdoor cushions. Featured above, Delta Outdoor Circle and a collection of Panama Outdoor Cushions.
Accessorise with outdoor cushions
From offering extra comfort to your sun lounge to adding a touch of colour to your sofa, outdoor cushions are a versatile outdoor accessory.
Engineered with Airmesh panel technology combined with high-performance weather-resistant fabric, KING Outdoor Cushions are UV stable, fade and mildew resistant.
With various colours and patterns to choose from, outdoor cushions are also a great way to add your personality and favourite colours to your outdoor spaces.
Jasper Outdoor features convenient hidden storage.
Hidden storage in sofa and sun lounge platforms
Without access to convenient storage, your outdoor space can become cluttered with tools, toys, blankets and everything else under the sun.
Sofas with hidden storage, such as Jasper Outdoor and Delta Outdoor bring comfortable seating and functional storage to your outdoor living space. For resort-style sophistication and poolside entertaining, there is the Jasper Sun Lounge with hidden storage—ideal for storing pool toys and extra towels and pillows.
Designed to keep your furniture clean and protected from the elements, the WeatherGuard Cover can be used throughout all seasons and year-round.
Protect your designs with outdoor furniture covers
While the fabrics on KING Outdoor Sofas are weather resistant and designed to keep moisture at bay, prolonged exposure to the rain can cause wear, particularly if your sofa is constantly saturated and unable to dry.
The WeatherGuard Cover creates a barrier between your sofa and potential environmental stressors. To avoid over-exposure to rain, which can cause mould and mildew, we recommend covering your outdoor sofa when not in use—particularly if rain or bad weather is expected. This will also help prevent foreign matter from building up on your furniture.
If your sofa gets wet, allow the fabric to air dry thoroughly before placing on your WeatherGuard Cover. Allowing moisture to sit in the fabric can also cause mould and mildew to grow.
In this outdoor living space the Zaza Outdoor is paired with the Lode Ottoman and Morpheus Occasional Table.
Complete your outdoor living space with the right accessories
Offering comfort, style and functionality, outdoor living spaces allow you to enjoy the comfort and luxury of interior spaces while in a beautiful and sunny outdoor setting.
The addition of outdoor accessories and occasional furniture allow you to tailor your designs to meet your comfort and functionality needs.
If you're ready to accessorise and complete your outdoor space, you can view our range of outdoor accessories and furniture online or visit us at your nearest KING Showroom.
If you need more inspiration for curating your outdoor space, you can read the KING outdoor furniture guide or see Neale Whitaker's tips on creating an outdoor room.