The armchair is lifestyle piece – ready to adapt and be there for anything you need.
A haven to read, sip tea and tune out the noise of the world. With space for only one, it's your personal relaxation zone.
Every interior stylist knows the right armchair can set the style tone – and comfort – for the whole room. The challenge is finding the best armchair for you.
We have asked Interior Designer Kathrine McDonald and King Living Fabric Design expert Sebastian Nash their best tips on selecting armchairs and accent chairs that complete your living space.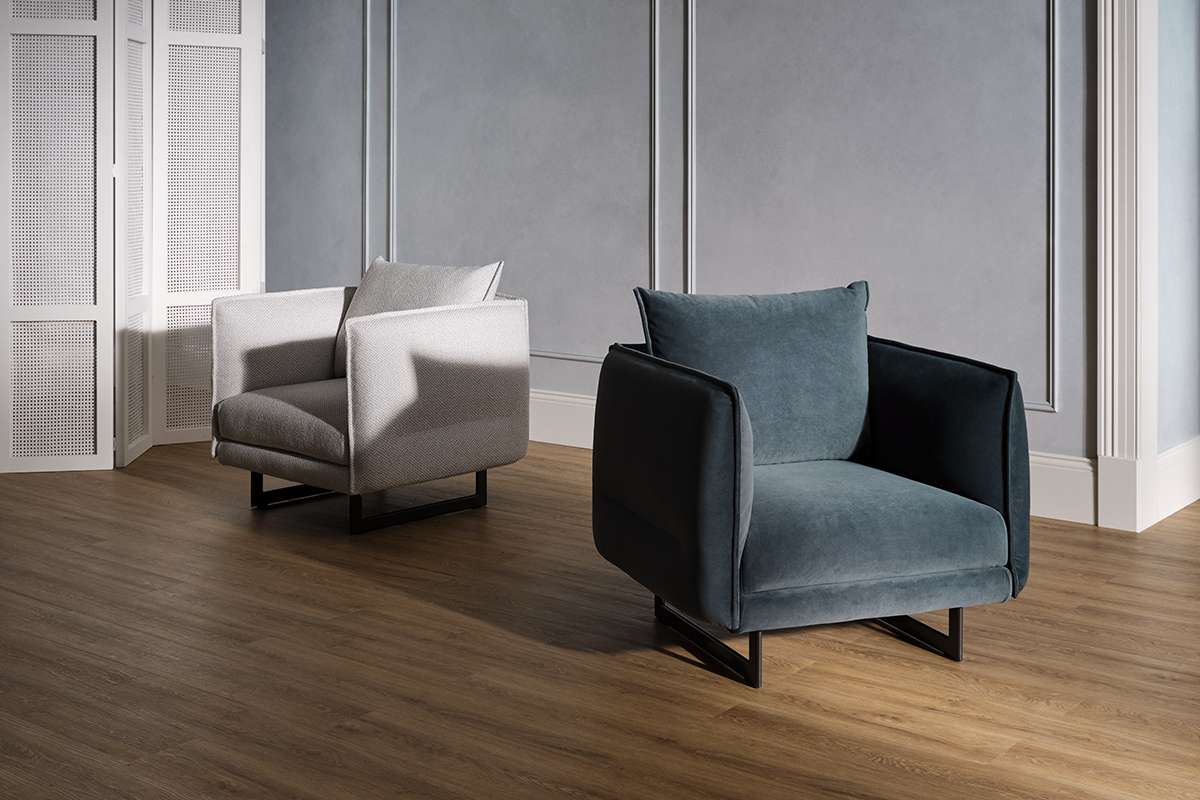 Zaza Armchair in Boyd Autumn Mist and Boyd Aegean Teal.
Function
The first consideration is always functionality. How will the armchair be used? Will it be a reading chair, a statement piece, or both? For Interior Designer Kathrine McDonald, function comes first.
"Their main purpose is functional seating, but also included as decorative elements to enhance the aesthetic of the space."
Armchairs and accent chairs are such a versatile piece of furniture and can be used in various settings. The main purpose will be entirely dependent on your needs, and the room your chair will be located.
"They are particularly useful in a living room setting, complemented with sofa seating, as they are lighter in proportion, both visually and from a space perspective."
Knowing the primary function is the best starting point before focusing in on aesthetics.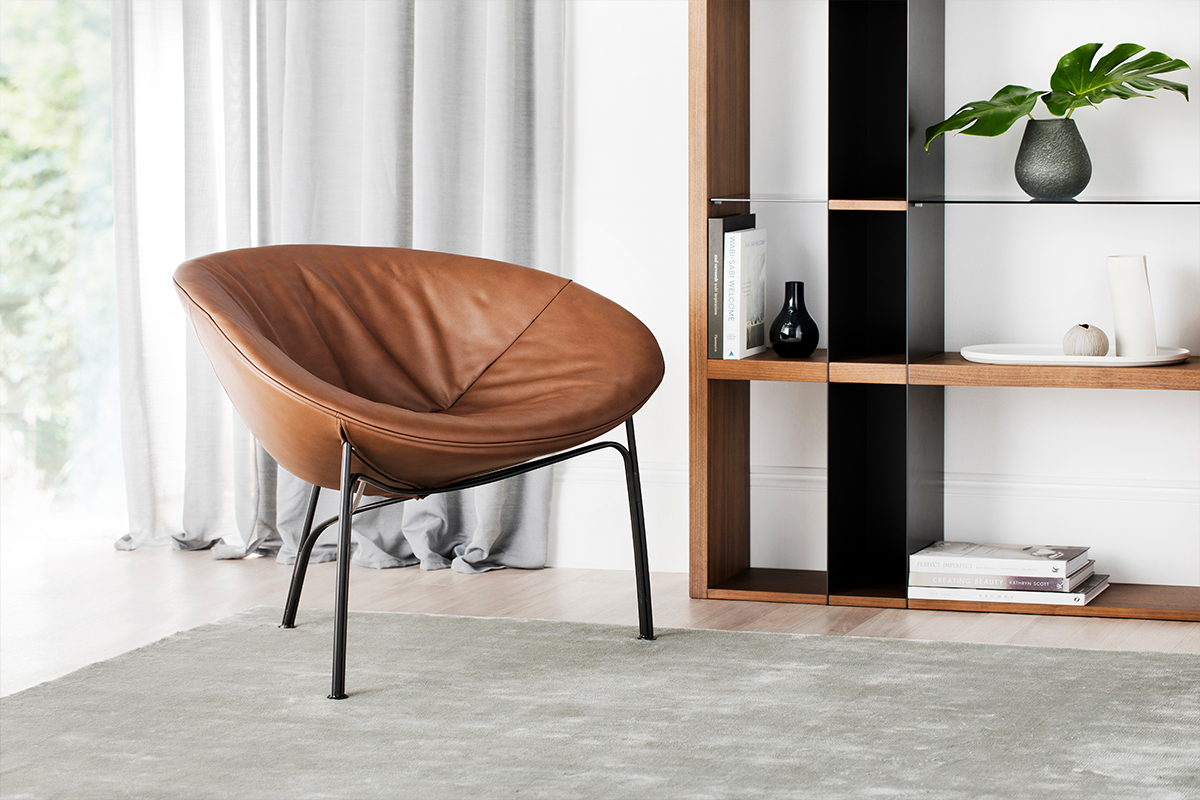 The Luna Chair envelopes the body in comfort.
Style
The style you select will be a personal choice. The balance is in finding a statement armchair you love the look of, while also ensuring the style complements the overall aesthetic of the room.
Colour palette, textures, and existing patterns of the room, as well as the desired mood and atmosphere will all be considerations. For Kathrine, design focus will always come before trends.
"I'm a big believer of less is more and 'buy well', so I tend to avoid trendy pieces and install design focussed furniture pieces, which complement the rest of the furniture or act as a statement."
The shape and proportions of armchairs and accent chairs can also transform the feel of the room.
"Less relaxed zones may feature soft curves and upholstered fabrics, whereas slightly more formal spaces, may lend themselves to more structured chairs." Kathrine shares.
"I like low profile occasional chairs, as they allow you to see the view in a living setting. Higher backs tend to formalise the chair setting."
Pictured: Seymour Chair in TrueTouch Tasman Blue leather.
Comfort
Comfortable armchairs can become the most sought-after seat in the home. Every interior stylist will carefully consider the cushioning, support, and materials used to ensure the armchair offers long-lasting comfort.
"Even if your occasional chair is merely decorative, or an accent piece, it needs to be comfortable." Kathrine says. "It also needs to allow you to sit with good posture or look after you if you want to slouch into it and snuggle up with a book."
Since so many armchairs and accent chairs end up becoming reading chairs where hours will be spent, getting the right support is particularly important. Comfortable armchairs are a must.
"If you are someone who needs back and neck support, a higher profile or back design may work better for you." Kathrine advises. "Check the depth too – there is no point sitting on it and feeling like Goldilocks with your legs hanging off the front, instead of comfortably over the edge."
"Some clients prefer an arm, for a more structured setting. Softness or density is also a factor – if you have bad knees or are older, you need to be able to get out of it more easily. This is where an arm works well, as you can push yourself up more easily."
Featuring the Oliver Tub Chair, Issho Side Table and Monument Coffee Table.
Placement
The right armchairs and accent chairs can help you create cohesion and balance in your living spaces.

"Your occasional chairs should 'talk' to the other seating zones in your living room, or alternatively can be installed in the corner of your space as a break-out reading zone."
By considering the layout of the room from all angles, you can find the right placement of the armchair, ensuring that it fits seamlessly into the overall design.
"I often install two chairs and a sofa, to increase seating capacity, and create visual interest and a less heavy context, instead of installing another sofa." Kathrine shares. "They are also great located between zones – say living to dining, as you are not looking at the back of a sofa, which can seem quite visually dominant."
For reading chairs, natural lighting is also worth considering in your layout design.
"The corner of the room is best for a reading zone – especially if it's illuminated by natural light. For the perfect pairing – add a footstool as well."
Featuring the Seymour Chair and Footstool.
Durability
For every piece of furniture – durability should always be a top consideration. Finding designs crafted from high-quality materials is what will ensure the statement chair you choose is built to last.
"Durability is an important consideration, which is why I come back to 'buy less and buy well'." Kathrine shares. "I like pieces with longevity which will last the distance if they are used frequently or are located in a high traffic zone."
Cleaning and maintenance requirements are the other aspect to have an understanding of before you make a final purchasing decision.
For Sebastian Nash, Fabric and Leather Development Manager at King Living, the durability of the armchair fabric or leather you select is key.
"Material quality can really determine the longevity of your piece. At King Living, all fabrics undergo vigorous testing."
The Oliver Tub Chair features an invitingly deep seat and classic curves.
Fabric and finish
A statement armchair can be created simply by the armchair fabric choice.
Patterned or textured fabrics in vibrant and rich colours will add a whole new dimension to the look of the room.
"You will need to decide if you need a more performance-based fabric or can have an artisan fabric that may be less durable. Colour choice can be as creative as you desire. Textiles are a real opportunity to add personality." Sebastian shares.
"The feel and finish are very personal. Fabric may feel warmer and cosier to some – others will go straight for the smooth feel of quality leather."
"UV damage should always be taken into account as this can cause your fabrics to noticeably face – especially in Australia – and it's worth noting that more damage occurs in the Winter months.
Find the best armchair for you
With some extra thought and consideration, you can find the best armchair for you – comfortable armchairs that are also beautiful visually and durable is the goal.
At King Living our collection of armchairs and occasional chairs can be customised in a wide range of fabric or leather to suit your style aspirations. To explore the range shop online or visit your nearest King Living Showroom.
For more interior design inspiration, follow Interior Designer Kathrine McDonald on Instagram.
Shop the story