When it comes to comfort and functionality in modern living spaces, recliner sofas deliver on all levels. Modern electric reclining lounges combine both design and performance so you don't need to compromise on aesthetics to enjoy effortless relaxation.
Maybe you're designing a home theatre and need lounge recliners to enhance your viewing experience. Or perhaps you're considering recliner sofas for your living space. Whatever your situation, we explore the features and benefits of recliners and share the contemporary options in the KING collection.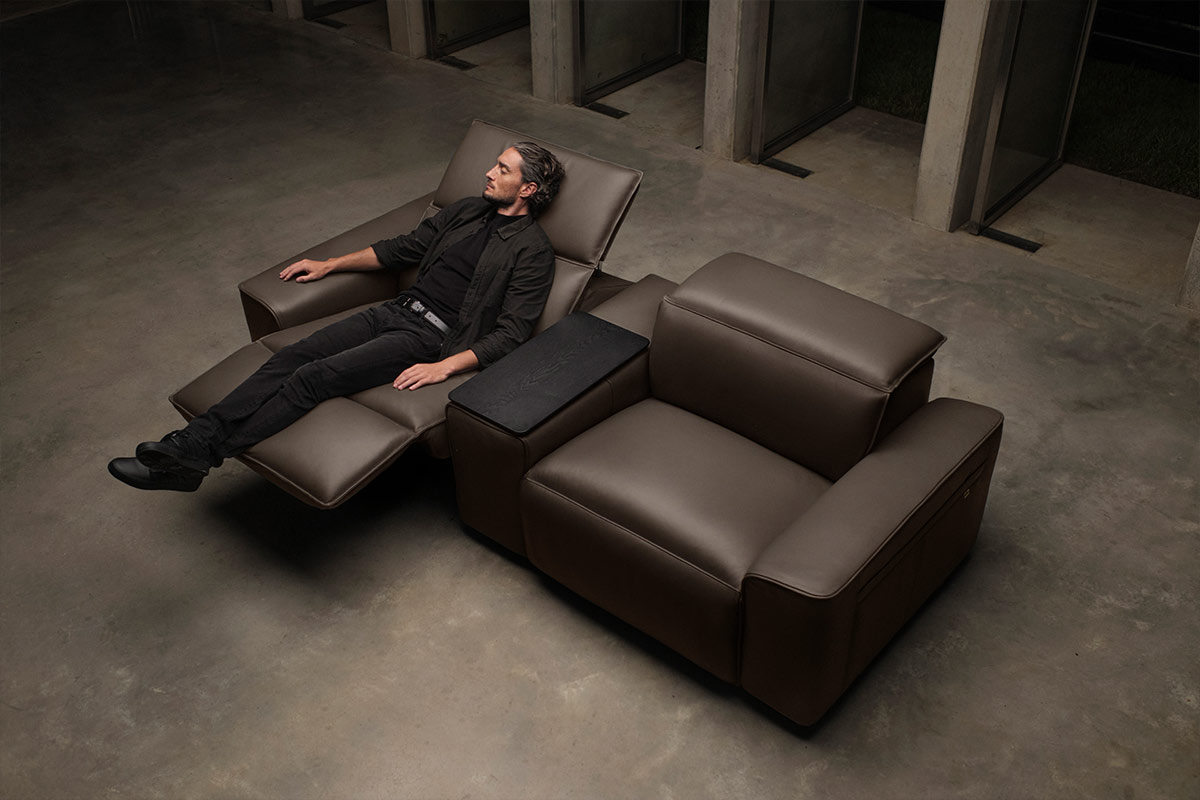 Relax into comfort with King Cloud V.
Recliner sofa functionality
Recliner sofas take comfort to the next level with options to adjust the recliner in different ways for lounging, napping, relaxing or watching a movie. Depending on the recliner, you may be able to adjust the headrests, footrests and body of the sofa.
You also have the added versatility with 2 seater recliners or even a 3 seater lounge recliner for individual reclining modules. This allows each seat to recline to different positions and levels of individual comfort.
KING Recliners feature TouchGlide® Technology for a smooth recline, every time. Powered by dual motors with controls discreetly integrated into the recliner, all it takes is the touch of a button to find your perfect cosy reclining position. The option to add Smart Pocket™ accessories, such as a wireless charging table, LED reading light and or speaker bracket brings the functionality in line with modern living.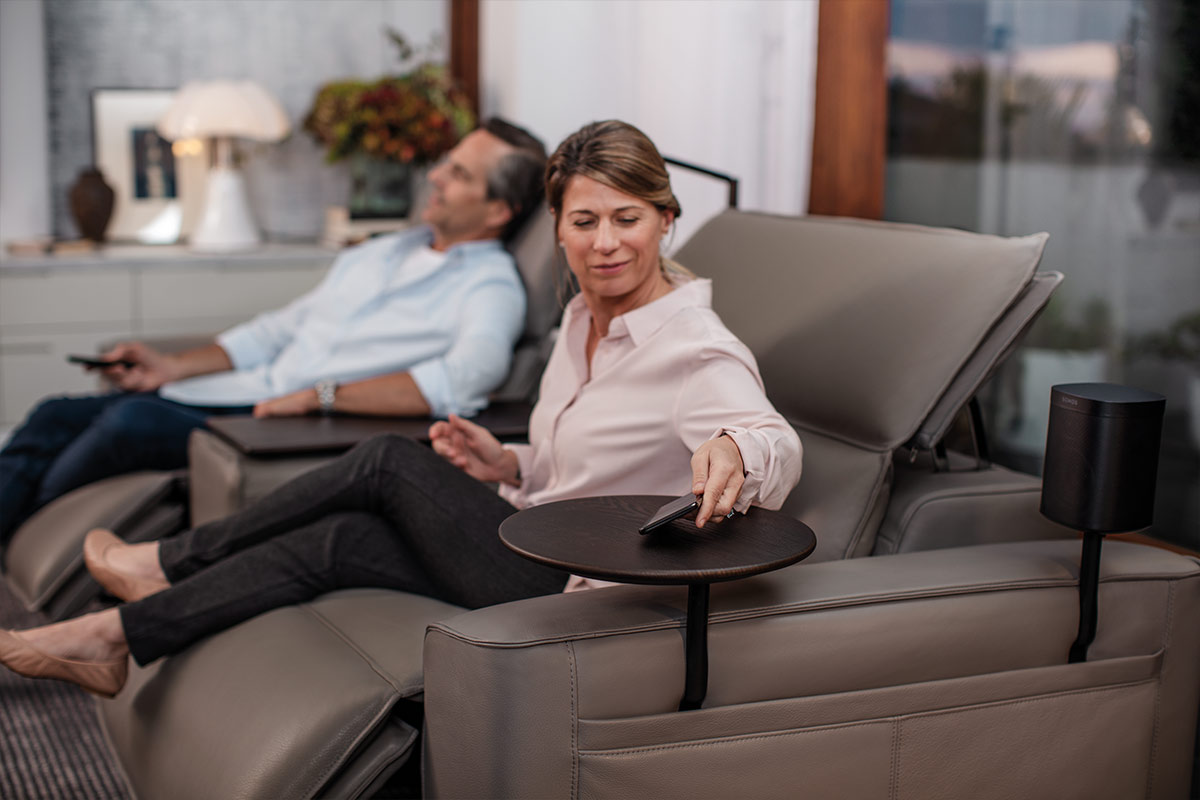 Personalise your comfort with Smart Accessories. Featured above is the Smart Wireless Charging Table.
Personalised comfort
Sofa recliners are ideal for people who suffer from back pain or discomfort. The sofa can be personalised to your body to alleviate pain by adjusting the different elements to the perfect angle for you. Raise the footrest slightly to elevate your feet, lower the headrest to reduce pressure on your neck or recline the sofa completely for taking a nap. Accommodate your individual preferences with a simple button adjustment.
But the level of comfort you can achieve with a sofa recliner is only equal to the quality of its design and construction. KING sofa recliners feature an engineered steel frame backed by a 25-year warranty. The KingCell® high tensile compression springs and the Postureflex® Suspension System work harmoniously together to provide long lasting comfort and support.
Choose from a wide range of textures, such as leather, boucle, suede or velvet, from the KING fabric collection to further personalise your recliner sofa. All KING fabrics are rigorously tested so you can be assured of a durable product that will last a lifetime.
Picturing the King Cloud V Recliner, Issho Coffee Table, Bongo Large and Marion Rug.
King Cloud V
One of the standout recliner sofas in the KING collection is the King Cloud V Recliner. Luxurious and stylish, King Cloud V embodies KING design innovation. The electric reclining mechanism effortlessly adjusts the headrest, footrest and body of the sofa. The optimised foam inserts deliver the signature KING sink-in comfort.
A statement piece in any living space, the KING Cloud V features a space-saving design that can be operated even against a wall. Configure the recliner sofa in multiple ways within your space, with armchair, 2, 2.5 and 3 seater recliner sofa options available.
King Cloud V also includes a raft of advanced safety features. In addition to mechanical spring safety and pinch point protection, the infrared safety system offers additional peace of mind. The infrared sensors prevent damage to household items or family pets by stopping the footrest motion if an object is detected.
Featured: Reo II Recliner, Issho Side Table and Bongo Large.
Reo II
The contemporary and sleek Reo II Recliner is another marvel of KING design. With a classic silhouette, Reo II offers full-body comfort and seamlessly simple personalisation for full-body comfort.
The ergonomic design, with adjustable headrests and superior lumbar support, allows for optimal relaxation. The wide armrests and deep seating space add to the luxury of Reo II, the perfect spot to curl up to read a book, unwind after a busy day at work or laze about on a quiet weekend at home.
Also available as an armchair, 2, 2.5 or 3 seater recliner sofa, Reo II can be configured in different ways. Combine reclining and non-reclining modules in the same sofa to suit different preferences while maintaining a streamlined aesthetic. A matching ottoman completes the collection.
Reo II Recliner is effortless in style and functionality.
KING personalised comfort and style
No matter your interior style, you can customise a KING reclining lounge suite to your taste. Choose from the Reo II and King Cloud V collections in the complete range of KING fabrics. Be inspired by the collection and the styling opportunities that KING design presents.
For more information read the King Cloud V or Reo II Recliner guides, or shop online today.