In the lead-up to the holiday period, there is often a plethora of shopping and organising to do. From buying extra food and serviettes to decluttering, a lot of preparation goes into gearing up for all the celebrations you will enjoy with your family and friends.
But, what about your furniture and getting your outdoor entertainment area party-ready?
And, how do you get your home ready for extra guests and large dinner parties?
At KING, we craft furniture to withstand a lifetime of dinner parties, entertaining and holiday celebrations. In this article, we will share tips on how to get your home ready for the holidays and what furniture designs help accommodate extra guests.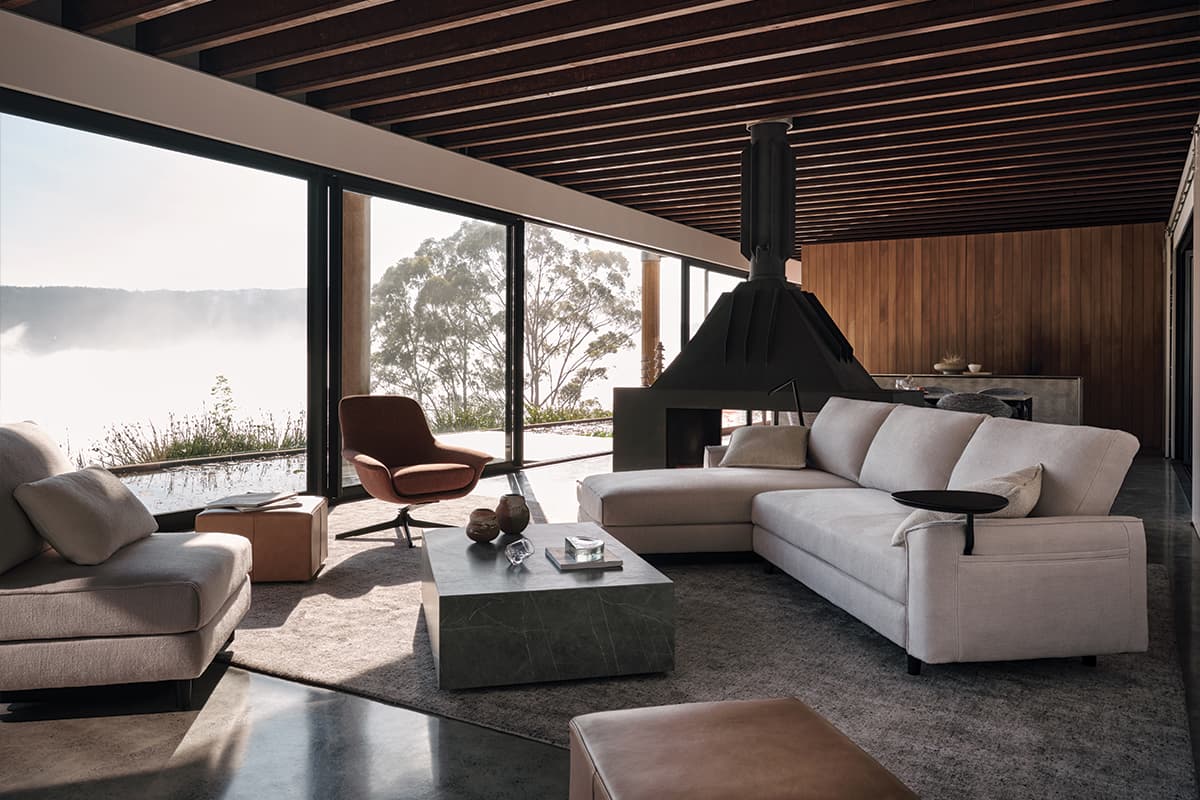 As a modular sofa, you can easily rearrange your Delta to accommodate a Christmas tree or extra guests.
How to prepare your living space for extra guests and the holidays
Whether you are unwrapping presents with the kids, relaxing during your time off work, or entertaining friends and family, your living space will be a constant buzz of activity during the holiday period.
As a central gathering place in your home, your living space needs to be functional, comfortable and able to accommodate extra guests when needed.
Ottomans and Daybeds are one solution for creating more seating for guests, but if your sofa needs an update, a Modular Sofa will provide you with greater flexibility and seating options.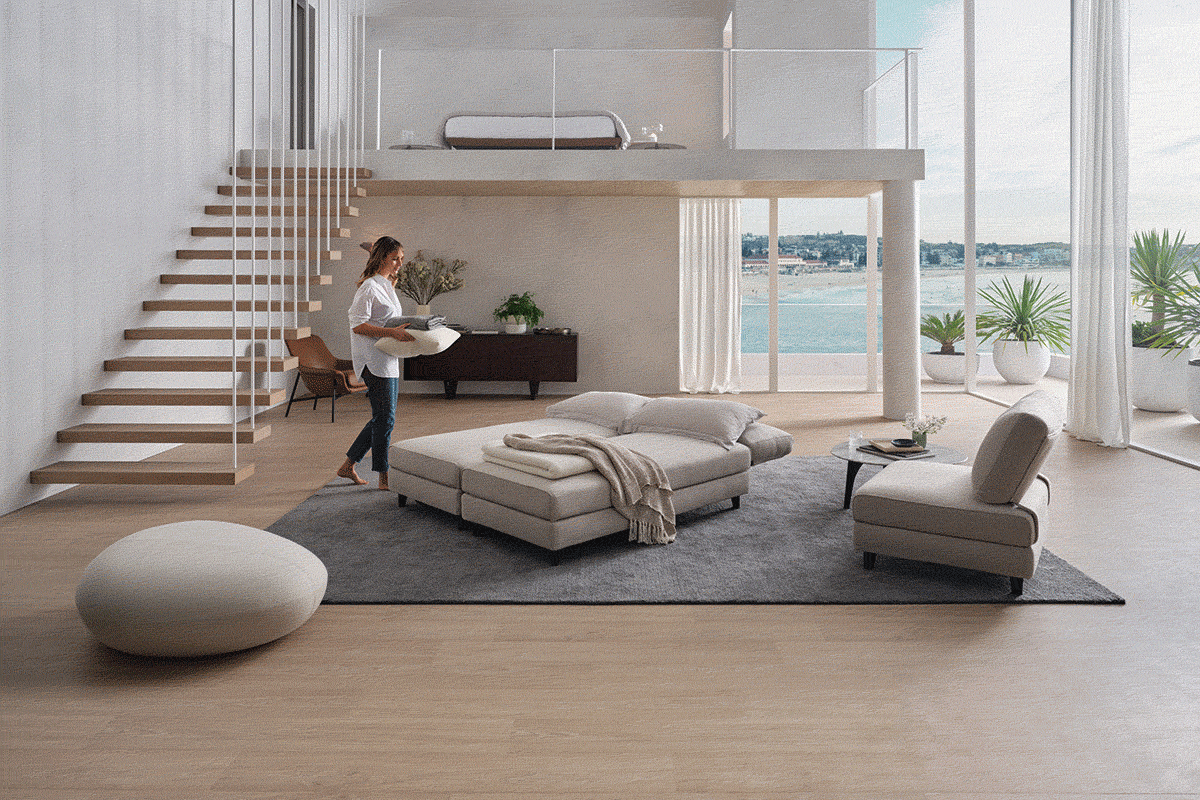 As a fully modular design built for flexible living, Delta effortlessly converts into a comfortable Queen bed and a range of different configurations.
Modular sofas are made up of portable sections called modules. This gives you the versatility to arrange your sofa in a range of different configurations including a comfortable guest bed. You could also arrange a two-seater sofa with a chaise as a three-seater sofa when you need extra seating.
Modular sofas with hidden under-seat storage also provide convenient storage for bulky pillows and blankets—an ideal solution when you are working on decluttering cupboards and wardrobes.
The Quay Timber Dining Table in American Walnut timber veneer paired with the Amara Dining Chairs.
How to prepare your dining space for extra guests and the holidays
Whether you have a formal dining room, an open-concept kitchen or a small dining space, your dining table is where you will enjoy countless meals with your family and friends during the holidays.
From intimate family dinners to grand dinner parties with friends, the right dining table for your home should be comfortable and functional year-round.
A table that can accommodate breakfast with the kids, as well as large dinners, allows you to prepare for the holidays and extra guests more easily.
Extension tables, such as the Quay Ceramic Dining Table, allow you to effortlessly transform a four-seater into a six-seater or a six-seater into an eight-seater design without needing to purchase another table.
When adding extra chairs and dinner place settings, allow 20–30 centimetres between the seat and the bottom of the tabletop, and a minimum of 15 centimetres between each chair, says KING Senior Designer Alinta Lim.
"This gives everybody enough room to sit comfortably and relax in their chair without bumping elbows with the person next to them," adds Alinta.
If your dining space and table are small, consider armless chairs or allow for more seats and to save space.
The Issho Dining Table suits both small and large spaces and typically sits four to six comfortably. Paired here with the Amara Dining Chair.
If you don't have the space for a large six or eight-seater rectangle table, consider a round dining table, such as the Eto or Issho.
A benefit of a round dining table is there are no edges, which brings guests closer together. And, as there is no head of the table, everyone can see one another and converse easily. Additionally, the curved forms create a casual and intimate setting.
You can also easily and comfortably add an extra dinner place setting and seats around a round dining table.
In this outdoor living space the Zaza Outdoor is paired with the Lode Ottoman and Morpheus Occasional Table.
How to prepare your outdoor entertainment area for the holidays
The holidays are a time for socialising with friends and family. Along with all the pre-planned holiday festivities, you may also host a spontaneous barbecue or a pool party if the weather allows for it.
For both the festivities and spontaneity, you will need to have your outdoor entertainment area in order.
Quay Ceramic Dining Table are paired together with the Luna Outdoor Dining Chairs to create this outdoor dining space.
Whether its sun lounges by the pool, an outdoor dining table and chairs or an outdoor sofa, your outdoor living space is an extension of your home.
And, your outdoor furniture should allow you to enjoy the comfort and luxury of interior spaces while in a beautiful and sunny outdoor setting.
When selecting outdoor furniture, Horticulturist, Stylist, Landscape and Interior Designer, Adam Robinson recommends choosing comfortable and versatile furniture pieces that can be used in different ways and easily adapt to your space.
"I always talk about sofas as being either a half hour or four-hour chair," says Adam.
"The Zaza Outdoor Sofa definitely has the comfortability of a four-hour sofa. It's the type of sofa that you can sit on for a whole evening."
Beyond aesthetics and comfort, you need your outdoor furniture to withstand the natural elements and last for years of use and holiday celebrations.
"If you placed an indoor sofa outside, the weather would act to deteriorate it very quickly. We put in a lot of work to make our outdoor products last," shares KING Senior Designer Tanya Rechberger.
The KING Outdoor Collection is designed with the same comfort, modularity and flexibility principles as our indoor designs. Extension tables allow for extra seating, while modular sofas reconfigure to create additional seating when needed.
"KING is known for its luxurious comfort. And when we first began designing outdoor sofas, one of the key aims was to retain the comfort features of our indoor sofas and create the most comfortable outdoor furniture in the market," added Tanya.
Featured above, Jasper Sun Lounge with Lode Ottomans.
For the pool area, consider Outdoor Ottomans for extra seating and Sun Lounges with a hidden storage compartment, which can conveniently store beach towels and additional cushions.
The Oscar Sofa Bed is beautifully simple and contemporary. The considered design effortlessly folds out to a comfortable bed for two in one easy movement.
How to prepare your study for the holidays
Whether your parents are visiting, or your kids are hosting a sleepover, having a spare bed can provide a world of convenience and comfort during the holidays.
While not everyone will have the budget or time to convert their study into a guest room, the alternative does not need to be an uncomfortable inflatable mattress squeezed into your living space.
With a sophisticated mechanism concealed within the sofa frame, a sofa bed easily folds out to provide guests with the luxury of a full-sized comfortable bed. This allows you to convert your study into a guest bedroom within seconds.
With an easy-clean ceramic table-top, the Quay Outdoor Dining Table is ideal for family entertaining.
Getting ready for the holidays with the right furniture
Your home is a hive of activity during the holiday period. It's where you will relax while off from work, entertain the kids, and gather with friends and family.
While it is an exciting and joyous time, it can also be overwhelming—especially when you need to organise and prepare your home for extra guests, long dinners and potential sleepovers.
Having comfortable and versatile furniture that can easily adapt to accommodate extra seats and guests can help alleviate the workload and make organising your home a little easier.
Remember, if you need to update your sofa, consider a modular design. This gives you the flexibility to arrange the sofa in different configurations, including a guest bed.
Extension tables, armless dining chairs and sofa beds are other furniture designs that provide comfort, functionality and flexibility.
Whether you need a new table, sofa or outdoor entertainment space, visit your nearest KING Showroom to discover the full range of living, dining and outdoor designs. Or, shop online for our in-stock Quick Ship Designs, which offer shorter delivery times.